Revolutionizing Vegetation Management With Autonomous Robotics
Renu Robotics is at the forefront of transforming how solar and energy facilities manage vegetation. Our Generation 3.0 Renubot, an autonomous robotic mower, is the choice of leading energy facilities worldwide.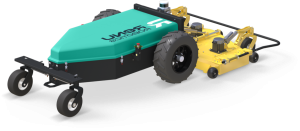 See Renubot in action
Why Choose Renubot?
RTK GPS Navigation: Designed with cutting-edge artificial intelligence for precise and autonomous navigation.
Mission Control: A unique feature that continuously monitors, controls, and sends real-time updates, accessible on specific mobile screens for performance tracking.
Eco-Friendly: Fully electric with solar charging skids available. Reduces 20,000 pounds of CO2 annually.
Adaptable: Self-adjusting mowing deck perfect for uneven or rocky terrains.
Efficient: Automatically returns to its Recharge Pod for charging, updates, and downloads.
Benefits of Renubot
Reliability: A mowing crew that's available 24/7/365.
Cost Savings: Save up to 30-50% on your O&M budget.
Safety: Eliminates accidents and the need for constant oversight of mowing crews.
Flexibility: Operates efficiently both day and night, optimizing your scheduling.
Get a Custom Solution for Your Facility
Share your contact details below, and we'll tailor a solution and provide a quote specifically for your operations.
Renu Robotics is unlike anything available in the field today.
Watch our video and see this amazing technology in action.